We are glad to see you on our website! The Library for Children and Youth named after Y. Altynsarin of Kostanay invites you to make an instructive and fascinating journey into the world of reading, books and libraries!
This is our library building. It is located at the address: 74 Kasymkanov Street.
The library is open from Monday to Friday from 10:00 to 18:00, on Saturday from 9:00 to 17:00.
The day off is Sunday.
Library structure:
Department of services for children of senior school age and youth
Department of services for children of preschool, primary and secondary school age
Department of Innovation and Methodological work
Department of Acquisition and Processing of documents
Service Department (Literature on Art)
Department of Automation of library processes
Department of Information and Bibliographic Support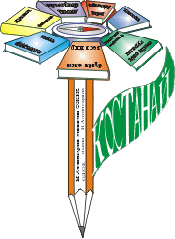 This is the emblem of the library. It appeared in 1996. Its author is Olga Boyko, a reader of our library.